What is Laser Hair Removal?
Laser hair removal is a safe and effective way to remove unwanted body hair without the pain or irritation of waxing or shaving. This method uses a laser to target hair follicles and render them inactive. Once Dr. Tumbaga treats a hair follicle, the hair won't grow back again.
Hair follicles cycle through phases of growth and rest and only the active hair follicles are treatable with the laser. Although you may notice an improvement right after the first visit, you probably need to return for two to six treatments spaced four to eight weeks apart.
What Are The Benefits Of Laser Hair Removal?
Laser hair removal treatments at Wellness Diagnostics and Medispa can help you get the smoother, softer skin you want with benefits like:
Less painful than plucking or waxing
Prevents ingrown hairs
Removes hair from any body area
Don't have to regrow hair between treatments
Saves time and money
Results are long-lasting to permanent
Treatment sessions are fast
Who is a candidate for laser hair removal?
Laser hair removal is a safe and effective alternative to traditional methods like waxing, shaving, and tweezing. Though people with all skin tones can benefit from this advanced laser treatment, people with lighter skin and dark hair tend to see the best results. Please inform our staff if you are pregnant, breastfeeding, or taking medications that make your skin sensitive to light. Wellness Diagnostics and Medispa wants to provide the best possible experience and results, which is why we offer consultations to ensure your candidacy.
Laser Hair Removal Reviews
"I had a wonderful experience with Dr Gloria  for my laser hair removal. I can believe the difference in my underarms and no idea why I didn't do this treatment sooner! I love it and and she made me feel comfortable! Highly recommend!"
- D.Z. /
Yelp /
Nov 03, 2021
"I went in for a consult and was sold on laser hair removal for my underarms. Dr. Tumbaga and her team are amazing. They made me feel right at home and at ease with all of the info."
- M.G. /
Yelp /
Feb 22, 2022
Previous
Next
HOW DOES THE ICON LASER REMOVE HAIR?
Dr. Tumbaga uses the Icon laser system with the MaxR™ handpiece for hair removal. The Icon laser uses microbeams to target and kill your hair follicles, preventing regrowth of unwanted hair.
It's a quick and painless procedure that doesn't cause the rashes and breakouts of shaving or waxing.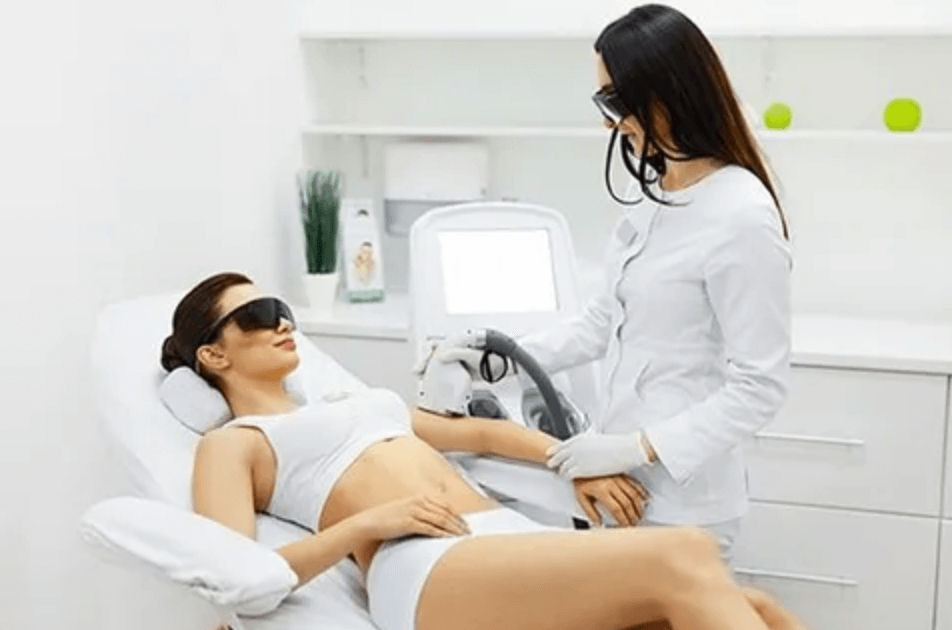 What areas can laser hair removal treat?
Icon lasers are safe for all skin types, including tanned skin. The MaxR handpiece is conveniently shaped to treat large or small areas.
Dr. Tumbaga uses Icon laser to remove hair from these areas:
Back
Bikini line
Chest
Upper lip
Chin
Neck
Shoulders
What should I Expect from my Laser Hair Removal Treatment?
First, Dr. Tumbaga cleans your skin to prepare it for laser treatment. The procedure is quick and painless, but she might apply a cooling gel to minimize any potential discomfort from the warming laser beam.
Laser hair removal is a quick procedure that requires no downtime. You should be able to return to work and normal activities immediately following your appointment. Side effects are minor and should disappear within a few days, but you might experience the following:
Redness
Swelling
Discomfort
3 to 5 treatments are typically needed to reach desired results. The amount of time it takes depends on the size of the treatment area. For example, removing hair from your upper lip takes only minutes, while a larger area can take over an hour.
Icon hair removal treatments last several months to a year. After that, you may see some hair regrowth, but it'll be finer, lighter, and less noticeable. Most patients require maintenance treatments once or twice per year.
If you're ready for smooth, hair-free skin that lasts, call or click here to set up an appointment at Wellness Diagnostics & Medispa today.
How much does laser hair removal cost?
The cost of laser hair removal depends on the size of your treatment area and the number of sessions. To help put the cost of laser hair removal into perspective, think of the time and energy you currently spend on shaving, waxing, or other temporary hair removal methods. By comparison, laser hair removal is typically less expensive overall and will save you time and energy in the long run. We will develop a plan that includes the total number of appointments recommended and costs.
Is laser hair removal permanent?
Laser hair removal is an effective treatment for lasting results. While men and women can enjoy the benefits of the treatment for years, we consider this treatment semi-permanent because some follicles may not be affected by the laser. However, patients find that many of the hair follicles are gone after finishing their treatment plan, and even if some hairs pop up, they are very easy to manage. More laser hair removal treatments may be needed to address any stragglers or new growth.
Why do I need multiple laser hair removal sessions?
Your hair growth occurs in cycles. While some follicles are in a live growing phase, others remain dormant. Since every hair follicle grows in various stages, multiple treatment sessions are usually needed to target each follicle when it's growing. Scheduling your treatments over the next several weeks helps you get effective results and smoother skin.
Tired of wasting time and effort on painful, temporary hair removal methods? Then it's time for a more permanent solution at Wellness Diagnostics & Medispa. Our laser hair removal platforms use the fastest and most effective laser technologies to help both women and men remove unwanted hair — and keep it off. If you're in Temecula, CA, contact us today to learn more and reserve a consultation. Let Dr. Tumbaga and her talented staff help you achieve silkier, smoother skin with a cutting-edge, personalized laser hair removal treatment plan.
Related Procedures
Related Post