Do You Show These Signs of Aging?
Skin color more gray because of less blood flow.
Fine vertical lines around the mouth
Skin texture becomes less smooth. As a result, the person looks "worn", or "tired" or "droopy." The lively, rosy hue (seen plainly in playing children of every skin color and in young adults) fades to a dull gray.
Scars from trauma, acne, or chickenpox?
Microneedling is a dermaroller procedure that uses small needles to prick the skin.
The purpose of treatment is to generate new collagen and skin tissue for smoother, firmer, more toned skin.
Microneedling is mostly used on the face and may treat various scars, wrinkles, skin texture and large pores.
Reviews
"I recently had lip fillers done and I can't rave about Dr. Tumbaga and her staff enough. It was a pleasant experience and she is so knowledgeable and professional. The facility is spotless. Her and her assistant are extremely gentle. The results are AMAZING! My hubby can't stop looking at me. ❤️💋"
- C.W. /
Facebook /
Sep 24, 2020
"They've done an AMAZING WORK on me and three of my friends! We love the Doctor, we love the staff! I highly recommend them!"
- K.G. /
Google /
Aug 19, 2020
"Professional knowledgeable and amazing price and service! Thumbs up for dr Gloria"
- N.Y. /
Google /
Jul 21, 2020
"Dr Gloria is amazing, knowledgeable and very gentle . The entire staff make you feel at ease and treat you like family, not to mention they are very reasonable as well . Highly recommended"
- N.Y. /
Yelp /
Jul 20, 2020
"Dr. Tumbaga provides awesome care. She takes her time and recommending what treatments will work to help my concerns and needs. I trust her judgement and recommendations she makes for me. I feel safe with her performing treatments on me and appreciate her honesty. She makes me feel comfortable and has good bedside manners. She is not afraid to tell me that I will not benefit from a particular procedure. I highly recommend you see Dr.Tumbaga for any of your aesthetic needs."
- R.J. /
Facebook /
Jun 13, 2020
Previous
Next
Microneedling is minimally invasive, requiring no downtime.
It's considered safe for most people who are in overall good health.
The procedure isn't safe for people who use certain acne medications or for women who are pregnant.
You'll experience minor redness and irritation for a few days after the procedure.
Vampire Facial® Procedure
First, the physician (1) isolates growth factors from the patient's blood. Then (2), the provider uses a micro-needling device to create multiple micro-punctures --both driving the isolated growth factors into the skin & creating a stimulus for tightening and rejuvenation of the collagen of the face. Then (3), these provider paints the growth factors onto the micro-punctures so that the growth factors soak into the tissue for further stimulation of tightening and skin rejuvenation.
The skin tightens, and glows with color, and scaring softens for a beautiful younger and very natural result.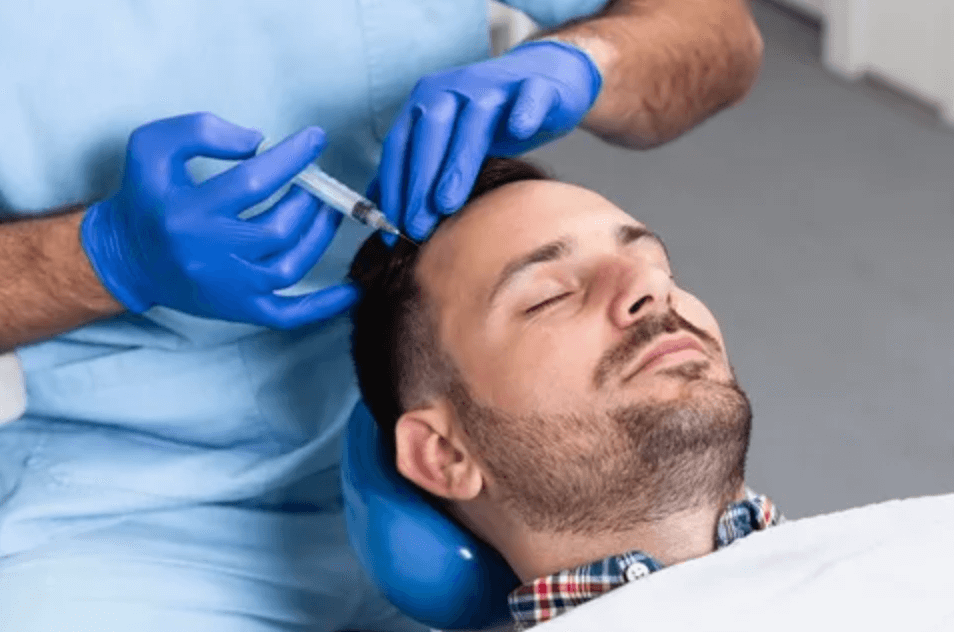 WHAT ARE PLATELET-RICH PLASMA (PRP) INJECTIONS?
Platelet-rich plasma (PRP) is a medical technique proven to rejuvenate cells in the treatment area and slow down the aging process. Sports physicians and orthopedic surgeons use this therapy to heal injuries and treat osteoarthritis, but it also helps aesthetic medicine specialists treat the following conditions:
Hair loss
Scars
Uneven skin tone
Wrinkles
Saggy skin
Related Procedures