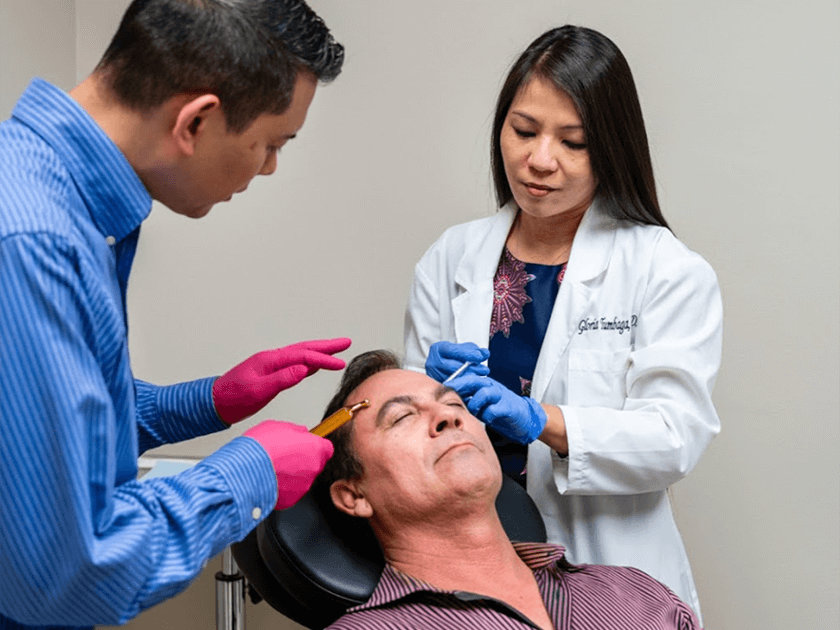 Gloria Tumbaga, M.D. is a medical aesthetics specialist with expertise in advanced anti-aging techniques. At her practice, Wellness Diagnostics and Medispa (WDM), Dr. Tumbaga relies on natural approaches to therapeutic and cosmetic healing to replace drugs and surgery.
Dr. Tumbaga completed her undergraduate degree in nursing and medicine at the University of Hawaii. She trained with leaders in medical aesthetics at the Ageless Aesthetic Institute in Florida. Dr. Tumbaga's passion is helping others to "be their best self." Dr. Tumbaga is leading the way at WDM by being at the forefront of regenerative medicine therapies using the most advanced techniques to facilitate the body to heal itself.
Reviews
"Highly recommend coming here! Excellent patient care and attention to detail. Dr. Gloria has great bedside manner and is gifted in aesthetic medical procedures such as Botox, fillers and Fotana Laser! In a short amount of time, Im beginning to look years younger! My skin is becoming more youthful and the collagen is surfacing, taking years off! Monica is great! She makes you feel comfortable and welcomed. Always happy to see you with a big smile on her face. Dr. Gloria has a great team! Joe is very knowledgeable, inviting and has great customer service, keeps a busy office running smoothly. Everything is clean, equipment is state of the arc and patient care is excellent. I always leave the office feeling great and prettier! :)"
J.B.
Yelp
"Dr. Gloria Tumbaga is very kind & professional as well as the people that work for her. Since my Doctor closed shop, i was very pleased to find her. I had my first appointment for Botox recently,  I am very happy with my results...I will definitely be back. I highly recommend Dr Tumbaga.Thank you Thank you"
C.S.
Yelp
"I have absolutely loved getting laser treatments here! Dr. Tumbaga and Nurse Jennifer have been wonderful. I was surprised by the high quality machines that are more effective than most medical-spas. I was looking into laser treatments for a long time and the quote and number of treatments was considerably less than what I got everywhere else. After only 3 tx I am almost done with my entire process - everywhere else I was quoted 7-8 treatm. So glad I found them and I have recommended it to so many people!!!"
J.L.
Yelp
"I am so happy with my results! Dr.Tumbaga is the best! I told her what my concern were and she delivered! She was so nice and joyful to be around."
J.S.
Yelp
"I won a hydro facial on Merchant Monday. I was excited to check it out. I've never had a facial done by any machine and technician. I walked in today and I was created by my Tech, Monica. She was super friendly and had a great personality right off the bat. I filled out basic paperwork and she brought me back. I met with the doctor where she looked over my paperwork and told me what I could expect. Then Monica took me back into the room. The machine is pretty cool. It sucks out all the impurities while it hydrates the skin. She gave me the option to play on my phone, listen to music or just relax and I took the opportunity to just relax. She put the machine on my skin and explained to me what to expect and made sure I was comfortable. She took really good care of me and told me each step she was going to do, so there were no surprises. When the facial was over she massaged some moisturizer into my skin which was so relaxing. I was bummer when it was all over. I was worried that they were going to try and sell me on all kinds of treatments and they didn't. She told me about a product to start and that there's a whole line but nothing high pressured. I highly recommend seeing Monica for a facial, you won't regret it. Excellent experience."
J...
Yelp
Related Posts