What is a 4D® laser facelift?
4D® is a series of synergistic, non-invasive laser treatments of both the exterior facial and interior oral cavity, enabling full-thickness contraction of collagen for persistent tightening and volume without injectables. With two laser wavelengths (Er:YAG and Nd:YAG) and 4 treatment modes, anti-aging is comprehensively approached from 4 different levels, working on deeper, medial and superficial connective structures of the skin, as well as targeting imperfections such as the Nasal Labial Folds.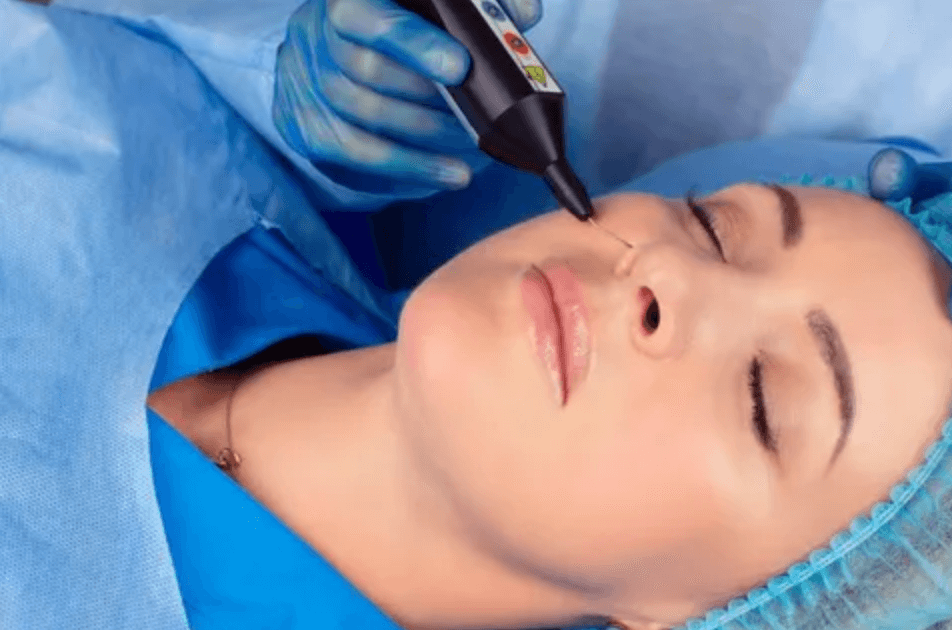 The four "dimensions" refer to four distinct treatments with Fotona's SP Dynamis or SP Spectro systems:
SmoothLiftinTM, FRAC3®, PIANO®, and SupErficialTM, all harnessed in concert to combat facial aging, with little or no downtime or anesthesia, and that can be performed all year-round.
Am I A Candidate For A Laser Facelift?
The ideal candidates for a laser facelift procedure are individuals looking to reduce the signs of aging and add volume to the face without plastic surgery. It is an excellent choice for women and men desiring to smooth lines and wrinkles, tighten loose skin, and achieve an overall rejuvenated look. A laser facelift in Temecula, CA at Wellness Diagnostics and Medispa can be an effective age-defying option to reduce the overall signs of aging without the cost and recovery time of plastic surgery. During your consultation, we will examine your skin and listen to your concerns to help you create a laser facelift treatment plan to meet your aesthetic goals.
What are the benefits of getting a laser facelift?
Here at Wellness Diagnostics and Medispa, our patients who get laser facelift treatments enjoy a number of benefits that this procedure offers, including:
Tightening of loose skin and wrinkles from deep layers of the skin
Increased production of collagen and elastin for long-lasting skin improvements
Refreshed, rejuvenated appearance that builds confidence
Decrease in pesky blemishes, imperfections, and spotting that can increase over time
Reviews
"I went in for a consult and was sold on laser hair removal for my underarms. Dr. Tumbaga and her team are amazing. They made me feel right at home and at ease with all of the info."
- M.G. /
Yelp /
Feb 22, 2022
"I am so happy tonight! I have been lethargic & basically, felt cruddy since Christmas. I tried to get into 2 of my doctor's offices & couldn't. A friend told me about IV treatments, so I started doing some research. This office is amazing! I came in weak & tired. I was met with a PA who sat with me as I did my paper work!!  After an IV treatment & B12 shot, I feel like a new woman. The doctor actually came in & talked to me about my issues - and, she was the one who took my IV out & gave me advice! WOW! I've had 4 children & a doctor has never took my IV out! I felt so taken care of. I highly recommend this office!"
- L.T. /
Yelp /
Feb 02, 2022
"Dr. Tumbaga was amazing as were all the assistants. They made the experience extremely comfortable. Dr. Tumbaga would stop at points to check in with me so I could see how things were going and confirm it was what I was looking for. Lip fillers came out exactly how I wanted. I will definitely be back."
- J.G. /
Google /
Jan 25, 2022
"Dr Tumbaga is amazing. She corrected some fillers that another office had done. She made my lips look even. I appreciate the time and attention she gave me as a new patient. She has a great eye for symmetry. I'm going back for lasers next."
- M.A. /
Yelp /
Dec 23, 2021
"I was desperate when I got here. Due to complications of medical botox for migraine, I had severe ptosis. One eye looked like I was terrified and the other looked like I was sleeping. I had visual impairment and the last thing I wanted to do was botox. From the first phone call, to intake to meeting Dr. Timbaland, I was amazed. The anxiety I was experiencing dropped several notices and within days, I feel human. Every single staff person I met there has been extraordinary. I love this olace!"
- G.G. /
Google /
Nov 28, 2021
Previous
Next
What to expect during a laser facelift
Wellness Diagnostics and Medispa begins by performing a complete skin analysis to ensure your safety and a successful outcome. This is the best time to discuss your specific needs and cosmetic goals. Patients are also provided with full instructions concerning their laser facelift procedure and what to expect during the process. The 4D facelift integrates different modes into one treatment to work the deeper layers of the skin and treat common imperfections associated with aging. Our team can personalize your plan for enhanced results.
How long is recovery after a laser facelift?
After a Laser Facelift/4D treatment at Wellness Diagnostics and Medispa in Temecula, CA, many patients often notice some minor improvements after a week or two. However, as the natural stimulation of collagen and elastin in your face increases, you will begin to see greater results with tightening of the skin and a reduction in fine lines and wrinkles within 4 - 6 weeks. A common Laser Facelift/4D treatment regimen can include about 2 - 3 treatments spaced 4 - 6 weeks apart. Your results will continue to improve, with the "final" results generally seen around 8 - 10 months. Depending on the health of your skin and your aesthetic goals, Dr. Tumbaga may recommend a maintenance treatment after 1 - 2 years to help preserve your results.
How much does a laser facelift/4D cost?
At your consultation, we review your skin to determine how many appointments you may need. Once Dr. Tumbaga has completed your assessment, you'll receive a detailed treatment plan that outlines the information we discussed. This will help us determine the cost of your laser facelift/4D.
Is a laser facelift safe for all skin types?
Yes, it is. Laser facelifts work well for patients who want to renew the appearance of their skin without the need for a surgical procedure. We can treat all ages and skin types, helping patients experience the results they want and deserve.
How do we perform laser facelifts?
Without requiring invasive facelift techniques or anesthesia, we carefully move the laser over the treatment area. This process helps rejuvenate the face by increasing collagen production, which tightens and smoothes the skin.
Related Procedures
Lift your skin without surgery
Are you interested in learning how innovative laser procedures can help you achieve your very best appearance without invasive surgery? Dr. Gloria Tumbaga and the aesthetic professionals at Wellness Diagnostics & Medispa are proud to offer state-of-the-art treatment options to patients throughout the Temecula, CA, area. With our help, you can nurture your inner beauty and feel confident about the way you look. Ask about our 4D laser facelift during your next visit.